May 22nd, 2008 by Gillwetter Press
|
Comments Off
On the piers bluefish, Virginia mullet, croaker, flounder, & shark.
On the surf red & black drum, bluefish, Virginia mullet, & small flounder.
Inshore lots of small croaker, some red & black drum, Virginia mullet, black bass, a few speckled trout, & flounder. Offshore on the bottom beeliner, grouper, snapper, black bass, grunts, & shark.
Fishing tip of the week: For you fishermen that hire inshore guides, if you intend to target drum, flounder, or trout try to keep it to 3 or less anglers. You will have a lot more fun, especially this time of year. If you catch 10 or less this would be a good day, but if you have 6 anglers 10 fish would not be so good. Keep fishing & stay safe.
Captain John Carty
Affordable Charters
910-616-3957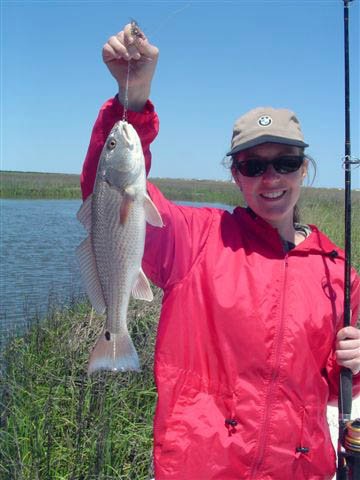 Erin from New York City caught her first red drum while fishing aboard Affordable Charters
Posted in Fishing Reports |
Log in Affordable Charters Fishing Report