June 30th, 2008 by Gillwetter Press
|
Comments Off
Inshore the flounder bite has picked up. A lot of small speckled trout, bluefish, some red & black drum, a few Virginia mullet, croaker, & lots of sharks.
In the surf small flounder, red drum, bluefish, Virginia mullet, & croaker.
On the piers bluefish, small flounder, croaker, shard, & Spanish mackerel.
Offshore on the bottom red & gag grouper, snapper, beeliners, black bass, grunts, & sharks.
Fishing tip of the week: This time of year it is a lot of fun to go to the mouth of the Cape Fear River & hook up with large black tip & hammerhead sharks. If you want to catch a 75 to 125 pound shark you need a heavy duty rod & reel, 40 to 60 lb test line, steel leader, & a big hook. For bait I use whatever is available. There is always small fish at the mouth of the river. Just use a pier rig to catch a smaller fish & use the whole fish as bait for shark. Be sure to set your drag. Keep fishing & stay safe.
Captain John Carty
Affordable Charter
910-616-3957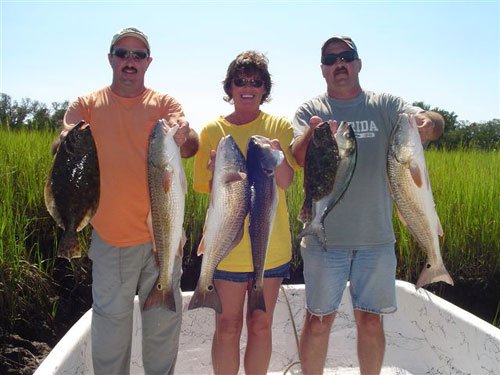 Danny, Lynn, & Gary caught these red drum, speckled trout, & flounder fishing aboard Affordable Charters.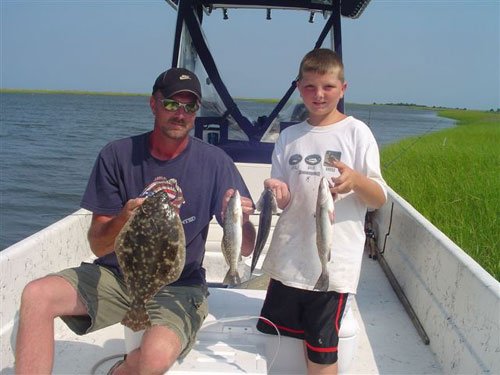 Chad & Jimmy from Charlotte, NC caught flounder & speckled trout on artificial bait fishing aboard Affordable Charters
Posted in Fishing Reports |
Log in Affordable Charters Fishing Report