August 25th, 2008 by Gillwetter Press
|
Comments Off
The fishing report is the same as last week even though the ocean has been considerably rougher. On the piers people are reporting catches of croaker, flounder, black drum, bluefish, sheepshead. In the surf people are catching flounder, bluefish, puppy drum, croaker, & Virginia mullet. Inshore people are reporting catches of large bluefish, speckled trout, red drum, flounder, croaker, Virginia mullet, & sheepshead. Offshore there are reports of king mackerel, Spanish mackerel, sailfish, & dolphin. On the bottom there are reports of amberjack, grouper, grunts, snapper, black bass, & pinkies.
Fishing tip of the week: The surf has been very rough this week but the wind has been directly out of the east so no current. This has made surf fishing a lot better for all the same species but much better quantities due to the heavy surf beating the sand fleas out of the sand. You may think it's too rough for surf fishing but lots of times this makes the best conditions. Keep fishing & stay safe.
Captain John Carty
Affordable Charters
910 616-3957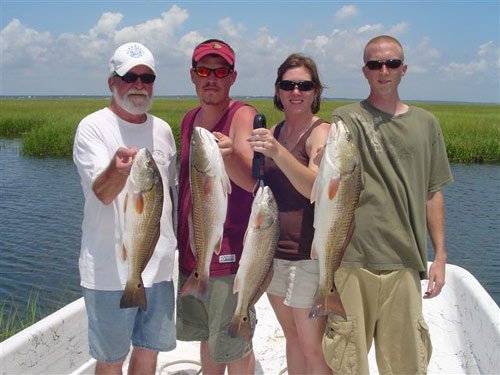 Above: Ernest, Ben, Susan, & Brad from Fayetteville, NC had a great catch of red drum while fishing aboard Affordable Charters.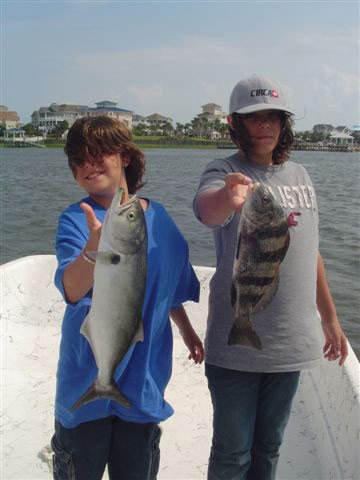 Above: Mike & Steven from Raleigh, NC caught blue fish, black drum, spot, blowfish, etc. while fishing aboard Affordable Charters.
Posted in Fishing Reports |
Log in Affordable Charters Fishing Report