January 25th, 2009 by Gillwetter Press
|
Comments Off
Fishing has been pretty slow due to the cold weather & snow day. Some have still weathered the cold & there have been some catches of speckled trout off the docks in the yacht basin. Also some red & black drum & a few Virginia mullet off the surf.
For those with good past or present fishing pictures you would like to see in the Island Gazette please email them to us at captaincarty@bellsouth.net. Keep fishing & stay safe (and warm).
Captain John Carty
Affordable Charters
910 616-3957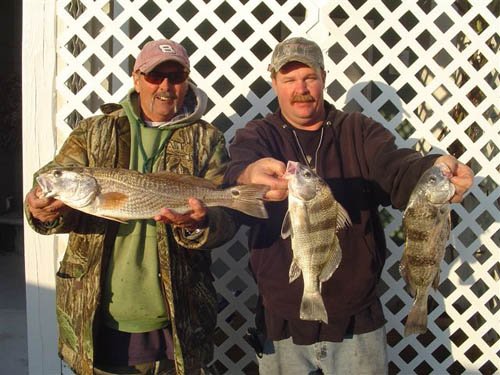 Berry Lucas & Joe Sneed caught red drum & black drum around Bald Head Island this past week.

Debbie Carty caught a nice size drum while fishing with Affordable Charters at Masonboro Island.
Posted in Fishing Reports |
Log in Affordable Charters Fishing Report