July 26th, 2009 by Gillwetter Press
|
Comments Off
On the piers catching king mackerel & Spanish mackerel, bluefish, croaker, Virginia mullet, flounder, black drum, pompano, & shark.
In the surf some small red drum, black drum, Virginia mullet, pompano, bluefish, & shark.
Inshore speckled & gray trout, bluefish, jacks, pompano, flounder, croaker, a few small spots, Virginia mullet, & shark.
Offshore on the top king mackerel, Spanish mackerel, a few bonito, dolphin, barracuda, cobia, & shark.
On the bottom grouper, snapper, grunt, black bass, flounder, & shark.
This weeks fishing tip is on how to keep your live bait alive for the whole day. Some minnows like mud minnows are easy to keep alive. You can put them in a bucket & as long as they don't get overheated they will stay alive. Mullet minnows are a little harder to keep alive, and small menhaden are very hard to keep alive, but they are a very effective bait. They are very visible, oily, and very plentiful. There are 3 things that are very important to keep your bait alive. Aeration, constant circulation, and water temperature. Circulation is very important to maintain a constant water temperature. A lot of bait systems will not pump while the boat is moving. It is very important to have a pickup tube so when the boat is moving the water will be forced into the tube and into your live bait system. Just 5 minutes without proper circulation will kill menhaden. If you have any questions on your live bait systems, stop by Island Tackle and Hardware. Ask for Dennis or Wesley. They will look at your live well, and show you just how to hook up a pickup tube. It will make the difference. Keep fishing and be safe.
Captain John Carty
Affordable Charters
910 616-3957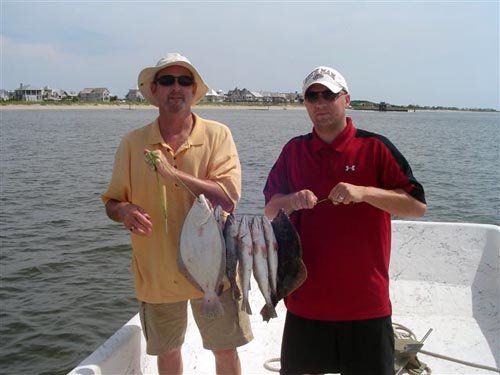 Steve & Chad from Texas caught some flounder & speckled trout while fishing abard Affordable Charters.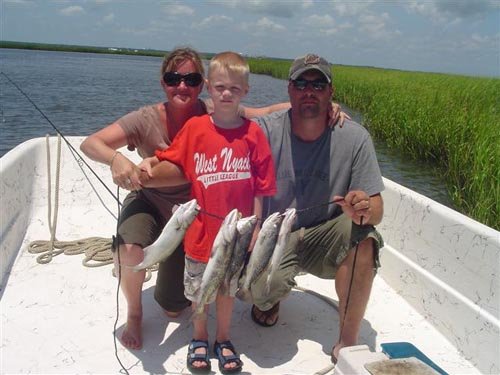 Katie, Colby, & Art from New York caught speckled trout, & a variety of other fish while fishing aboard Affordable Charters.

Berry Lucas caught this nice speckled trout while fishing aboard Affordable Charters.
Posted in Fishing Reports |
Log in Affordable Charters Fishing Report