September 27th, 2009 by Gillwetter Press
|
Comments Off
On the piers starting to catch a few spots, nice size bluefish, large red drum, Virginia mullet, croaker, flounder, black drum, a few sheepshead, & shark.
In the surf catching some nice size red drum, black drum, Virginia mullet, flounder, some nice size bluefish, croaker, pompano, & sharks.
Inshore red drum, flounder, small Virginia mullet, black bass, speckled & gray trout, bluefish, eel, & shark.
Offshore no report.
Fishing tip of the week: We've had a lot of rain this past week. The Cape Fear River goes all the way to Sanford, N.C. so there has been a lot of fresh water running into to the river. It will take a week or so for all this fresh water to be gone & this will be the reason for the bite to slow down for inshore fishing. Once this fresh water gets out of here the fishing should pick up again. So be ready for some good fall fishing. Keep fishing & stay safe.
 
Captain John Carty
Affordable Charters
910 616-3957

John Carty caught & released this nice red drum while fishing aboard Affordable Charters.

Shawn Carty caught this nice size red drum while fishing with light tackle at Carolina Beach Inlet.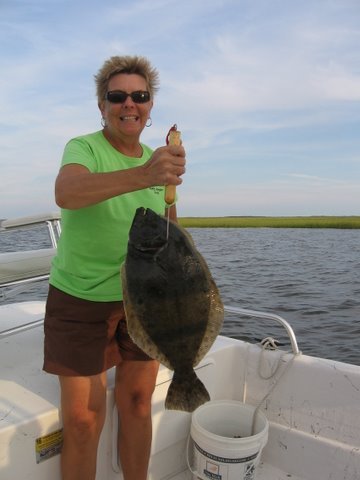 Betty Harrison caught this really nice size flounder while fishing with her husband Mike. Good job Betty.
Posted in Fishing Reports |
Log in Affordable Charters Fishing Report