March 23rd, 2010 by Capt. Robert Schoonmaker
|
Comments Off
I had the pleasure to fish with a couple of great groups of people this past weekend.  Justin and Shayla just wanted to catch as many big fish as they could close to shore.  We went Shark fishing and totaled out with 49 Sharks from 5lbs to 10lbs and a few nice seabass.  All the action was on light tackle so it was a blast to catch these hard fighting sharks.
Shayla tormenting Justin with her killer shark, watch out she is a man eater.
Shayla the shark queen, the smile says it all. This was her first time fishing, ever. 
I had Steven and his two sons Phillip and Thomas. We fished hard for the red and black drum in the waterway. All we could manage was a small sheepshead. We switched gears and went after the whiting.  We ended up with 49 nice whiting in just a short amount of time.  They had a blast catching these great eating fish, which are fun to catch on small light tackle.  If you want to put some great tasting fish in the cooler this is the trip for you.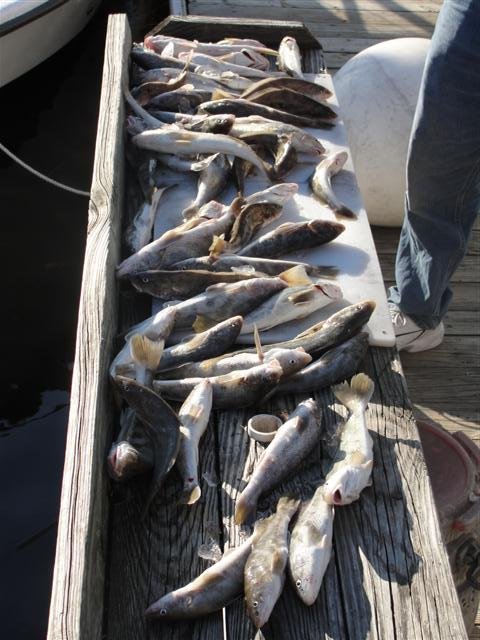 The Parkers catch of 49 nice whiting, I can smell them cooking in the grease now… No that is the fillets they gave me to eat tonight.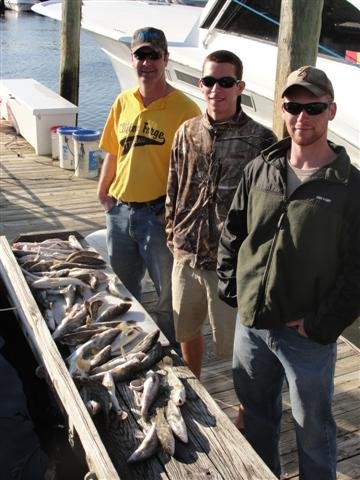 Steven, Phillip, and Thomas had some father and sons fishing fun. We fished hard and had a blast catching these great tasting fish.
 I had Bud from Carolina Beach with his grandson and friend on the boat.  We caught lots of whiting and had a great afternoon on the water.  Bud managed to catch most of the big ones, due to his fishing expertise.  He did let a few get by him, Chris and Terry caught some of ones that Bud let slip by his hook.  It was a great Grandfather/Grandson fishing trip and I know there will be more to follow. Just way too much fun and great fishing to boot.
Bud, Chris, and Terrys great catch of whiting.  The big ones are Chris's and Buds, the small ones Terry caught.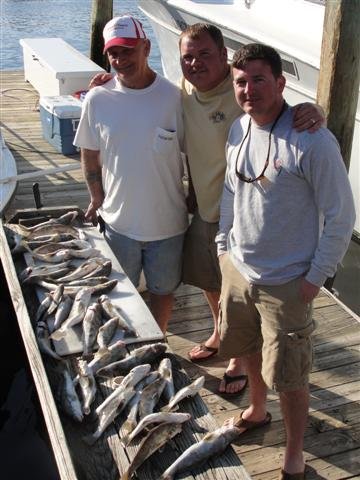 A great day on the water with Grandfather/Grandson and friends.
 The redfish, whiting, and sharks are biting.  Get out of the house, get some sun on your bones and enjoy some great springtime fishing. 
Thanks for reading the report, stay tuned I have few redfish trips this week and will keep you posted.
 Thanks
Capt. Robert
910-264-1807
Posted in Fishing Reports |
Log in Carolina Explorer Charters Fishing Report