September 21st, 2010 by Gillwetter Press
|
Comments Off
The inshore fishing has been good to excellent lately with catches of redfish, flounder, speckled trout, sheephead, bluefish, and black drum.
We have caught some really good numbers of redfish over the past couple of weeks fishing live baits on carolina rigs and float rigs. They are also hitting topwater plugs, spinner baits, and soft plastic baits but the numbers are nowhere near as impressive as the live baits. We have lots of double digit-days and double hook ups on the flats and shelly bottom drop-offs in the creeks of the lower Cape Fear. Most of the reds have been upper and over slot fish and an absolute blast on light tackle. There are also some large schools of reds on the flats and the sightcasting has been good when the wind and tides cooperate.
We are also picking up some nice flounder while fishing for the reds on live baits and artificials. I had a customer catch a five and a half pounder this past week on a spinner bait. Targeting flounder on points and docks in the Cape Fear river has been a very effective way to put some nice flatties in the boat. The flounder fishing will only get better as we get into Oct.
The speckled trout bite is getting better throughout the Cape Fear, and we're hooking the specks while casting live shrimp on float rigs, artificial shrimp imitations, topwater plugs, and soft plastic jigs. The trout fishing is not what it should be, but hopefully the specks will show up as the water cools.
The sheephead are around structure and hitting fiddler crabs on carolina rigs. There is always a possibility of putting good numbers of these tasty fish in the cooler. We are also picking up a few black drum and bluefish. Check out photos from the past couple of weeks and I look forward to my next fall report for the first of Oct.
Thanks,
Jeff Wolfe
Seahawk Inshore Fishing Charters
NC Inshore Fishing Blog
910-619-9580

9/3/10 Mike and Patty doubled up on reds fishing live baits on carolina rigs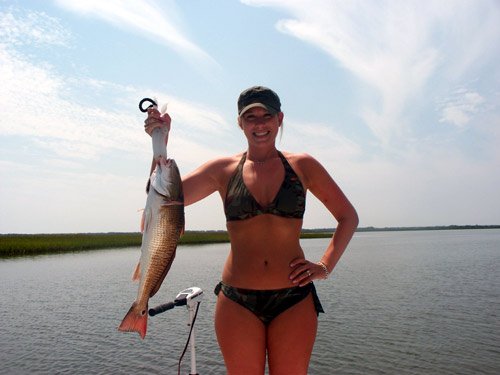 9/4/10 Sarah with a upper slot red caught float fishing a live minnow along the marsh edge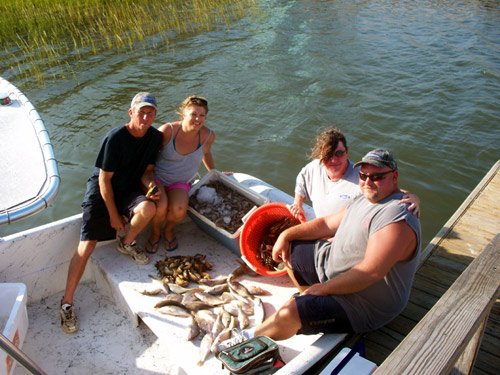 9/6/10 A great catch of seafood on a recent Waterman's trip. Around 70lbs of shrimp, 3/4 bushel of crabs, stone crab claws, numerous fish, and 200 clams that we forgot to add in the picture.

9/11/10 Josh with a red he caught float fishing a live minnow along the marsh edge

9/14/10 Richard with the reds we doubled up on sightcasting to a school on the flats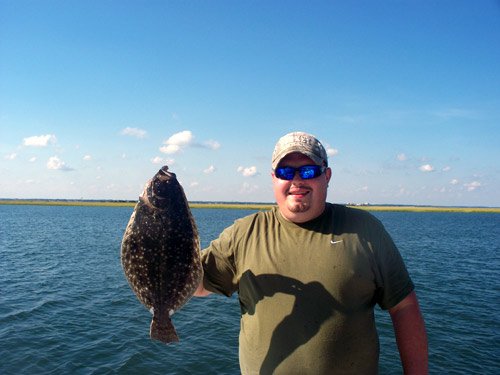 9/16/10 Mike with a nice flounder he caught on a spinner bait. This bass angler got him a inshore slam his first time saltwater fishing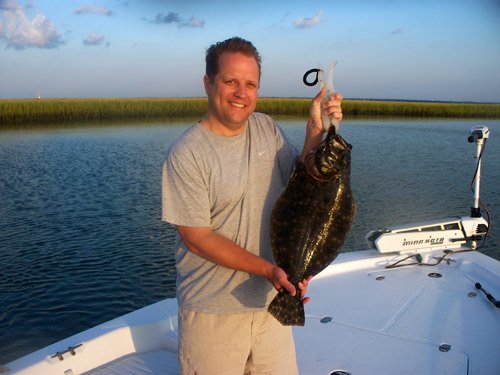 9/16/10 Zach with 5lb + flounder that inhaled a spinner-bait

9/17/10 Ethan with a flounder he caught fishing a live minnow on a carolina rig. This nine year old also caught several nice redfish.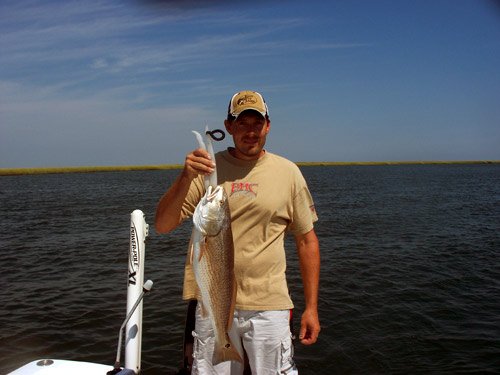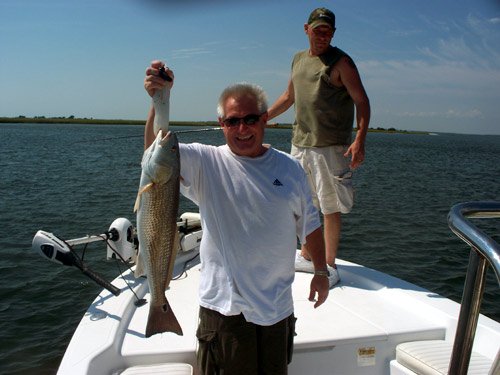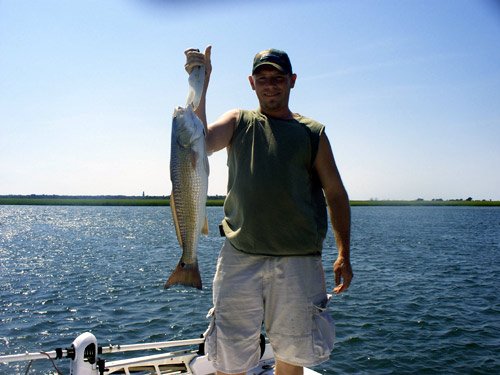 9/17/10 Ethan, Justin, Denny, and Tom wore out the reds fishing live baits on carolina rigs and float rigs

9/18/10 Greg and Matthew doubled up a couple of times out of schools in the creeks fishing spinnerbaits.
Posted in Fishing Reports |
Log in Seahawk Charters Fishing Report