December 24th, 2010 by Gillwetter Press
|
Comments Off
Merry Christmas and Happy New Year from Jeff, Amy, and Christian Wolfe!!!
I would like to take this opportunity to wish all of my family, friends, and clients a Merry Christmas and a Happy New Year. I hope everyone has a safe and happy holiday season. I am looking forward to a new year and fishing with many of my clients and meeting new ones.
If everything goes as planned I will be adding a new boat to better serve my clients in 2011. I am planning on custom rigging a 19? Carolina Skiff as a shallow water flats boat that can access the skinny water and accommodate three anglers and myself. With my 17? Ranger Banshee I can only fish two and myself and my 21? Kenner Bay can't get to those skinny water redfish on low tides. I will also be able to launch this boat at Buzzard's Bay and cut out that run up and down the Cape Fear River.
Now to short fishing report. We are catching good numbers of redfish when the weather cooperates. The reds are schooled up on the flats and in the creeks of the lower Cape Fear area. The sightfishing has been good when the winds are light which has been rare lately. On the windier days we are hiding back in the creeks and picking up a few fish blindcasting artificials and fishing live mud minnows to known productive areas.
We did have a calm wind day on 12/22/10 with Fred and Marnie from Greensboro, N.C. After searching and finding a few schools with lockjaw we finally found a school of mid to upper slot redfish working about a fifty yard stretch of a creek bank. These fish were willing participants and they caught around 35 redfish on the warmest, calm day we have had lately. After Fred had caught about ten on the spinning rod he broke out his flyrod and picked up his first red on the fly and added four more shortly afterwards.
On 12/24/10 I had Zack from Durham, N.C. on the Ranger Banshee fishing for reds in the backwaters. We had highs in the upper 40's and the wind layed out nice for us in the afternoon We located a couple of schools along a creek bank and caught 61 reds, about ninety percent were middle to upper slot fish and the others were under slot. I was able to make a few cast and got into the action as well. We need more weather days like we had on the 22nd and 24th and the redfishing should be good.
Looks like it is going to be cold for the next week or so. Hopefully this wacky weather will get out of here and we'll get back to a normal Southeastern N.C. weather pattern. If we get highs in the fifties and sunny days, I should have a good report for the first of January. Check out a few of the photos from this past week.
Thanks,
Jeff Wolfe
Seahawk Inshore Fishing Charters
NC Inshore Fishing Blog
910-619-9580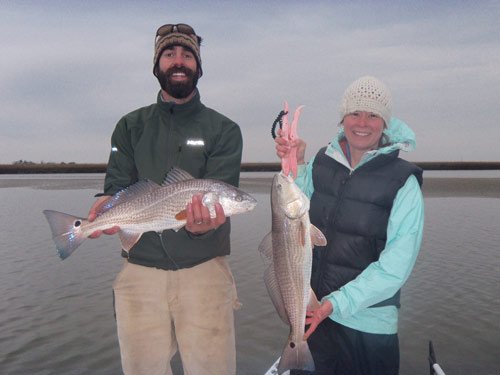 12/22/10 Fred and Marnie doubled up on redfish out of a school along a creek bank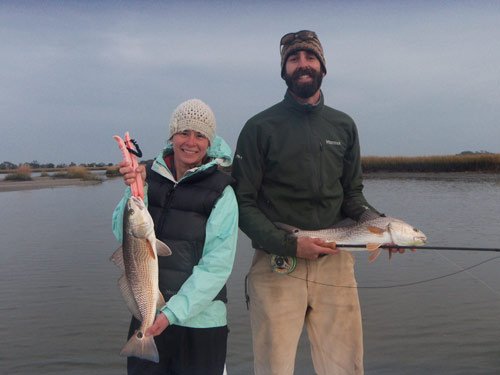 Another one of the many double hookups on 12/22/10. Marnie with spinning tackle and Fred with the flyrod

Fred hooked up on the flyrod

One of the five reds that Fred caught on the fly

Zack with a couple of the 61 redfish we caught on 12/24/10

12/24/10 I was able to get in on the action and picked up around 20 of the 61 redfish on a charter with Zack from Durham

12/19/10 Christian with a red on a cold day back in the creeks

12/22/10 Christian and Wade with two of the reds they caught sightcasting to a school along the marsh edge
Posted in Fishing Reports |
Log in Seahawk Charters Fishing Report